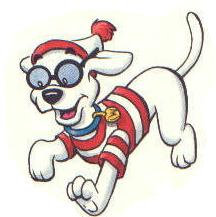 Woof is Waldo's dog and good friend. Woof originally belonged to Wilma, but over the years became Waldo's dog. Woof comes from the Land of Woofs, which is a land full of dogs like him. Like his owner, Woof sports a red and white bobbled hat, glasses, and a red and white striped suit. Woof sets off with Waldo on his travels with his bone, but always seems to lose it. Woof is shy and easily scared. He gets so scared at many of the places he travels to that he hides, leaving only his tail showing. In the classic Waldo Books, only Woof's tail can be spotted.
Woof first appeared in 1990 in Where's Waldo: The Ultimate Fun Book.
Ad blocker interference detected!
Wikia is a free-to-use site that makes money from advertising. We have a modified experience for viewers using ad blockers

Wikia is not accessible if you've made further modifications. Remove the custom ad blocker rule(s) and the page will load as expected.