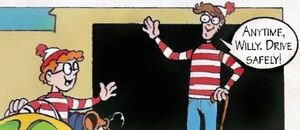 Willy is the nephew of Waldo. Willy is a young glasses-wearing orange-haired boy. He dresses (similar to Waldo and the Waldo Watchers) in a red and white striped shirt with a red and white bobble hat.
The character appeared briefly in the WoofTales comic of the premiere issue of Where's Waldo? Magazine. In the comic, Willy borrows a small green convertible from his "Uncle Waldo" - although Woof's over active imagination leads him to mistakes the vehicle for some kind of gigantic monster.
Ad blocker interference detected!
Wikia is a free-to-use site that makes money from advertising. We have a modified experience for viewers using ad blockers

Wikia is not accessible if you've made further modifications. Remove the custom ad blocker rule(s) and the page will load as expected.