Article Stub
This is an article topic in need of expansion!
Please help Waldo Wiki by building this article.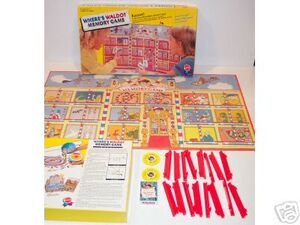 The Where's Waldo Memory Game was released in 1991 by Mattel. The object of the game was to match the most pairs of "Wacky Waldo Hotel" guest cards. Like most memory games, the face of every card is hidden from the players until they make a guess of two cards. If the cards do not match, they have to remember where the cards are so that they can match them on a later guess. The game came with an instruction booklet, a bi-fold hotel playing gameboard, sixteen plastic window sills, 32 "Wacky Waldo guest cards", and two free turn tokens.
Ad blocker interference detected!
Wikia is a free-to-use site that makes money from advertising. We have a modified experience for viewers using ad blockers

Wikia is not accessible if you've made further modifications. Remove the custom ad blocker rule(s) and the page will load as expected.