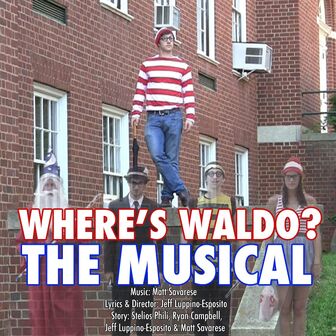 Where's Waldo?: The Musical
http://www.youtube.com/watch?v=9wOK3wg3Y5I&feature=share

Music by Matt Savarese Lyrics & Directed by Jeff Luppino-Esposito
The search is over. The Online Musical is proud to present the true tale of Waldo. Meet Wenda—Waldo's ex-lover, looking for her baby-daddy...is Waldo the one? Next up, Odlaw—Waldo's spiteful half-brother, looking for himself...does Waldo have the answer? Then there's Wizard Whitebeard—left behind when the student overcame the teacher...can Waldo stay hidden? Lastly there's a 1920's reporter...he just wants the scoop. But why all the secrets? Is Waldo hiding from us, or hiding from himself?
For your sing-along pleasure: LYRICS to Where's Waldo?: The Musical available at: http://waldomusical.tumblr.com/lyrics
For your permanent sing-along pleasure: MP3 to Where's Waldo?: The Musical available on iTunes: http://itunes.apple.com/us/album/wheres-waldo-the-musical-single/id457941097?...
More Waldo Videos! Meet Odlaw: http://www.youtube.com/watch?v=RPF3NbPZn7M Stop Wizardry Now: http://www.youtube.com/watch?v=qoleyVUOBnU Meet Cornelius "Scribbles" Hootenheimer: http://www.youtube.com/watch?v=TvC6VOg9FCg Waldo and Wenda Fan Video: http://www.youtube.com/watch?v=-UrdJ-WTtDI

CREW Director: Jeff Luppino-Esposito Music Director: Matt Savarese Production Manager & Costume Designer: Anna McGrady Assistant Director: Ryan Campbell Sound Editors: Matt Savarese, Ryan Campbell Stage Managers: Anne Donnelly, Emma Volpe Crew: C.J. Whitaker
CAST Waldo: Mike Goldstein Wenda: Rachel Dady Odlaw: Gavin Rohrer Wizard Whitebeard: Matt Savarese Cornelius "Scribbles" Hootenheimer: Ryan Campbell
Wally Watcher 1: Happiness Chijioke Wally Watcher 2: Jenna Schilstra Wally Watcher 3: Reva Geier Wally Watcher 4: Anna Schneider Wally Watcher 5: Camille Loomis Wally Watcher 6: Emily Via Wally Watcher 7: Kate Gadzinski Wally Watcher 8: Kate Breimann Wally Watcher 9: Stephanie LeBolt Wally Watcher 10: Anne Donnelly
Woof/Chairman Mao: Jenn Arcilla Charmin' San Diego: Erin McDonald

Be sure to follow us on various media: HOMEPAGE: http://www.TheOnlineMusical.com TWITTER: http://twitter.com/onlinemusical FACEBOOK: http://www.facebook.com/pages/Musical-The-Online-Musical/141685022516343
Ad blocker interference detected!
Wikia is a free-to-use site that makes money from advertising. We have a modified experience for viewers using ad blockers

Wikia is not accessible if you've made further modifications. Remove the custom ad blocker rule(s) and the page will load as expected.