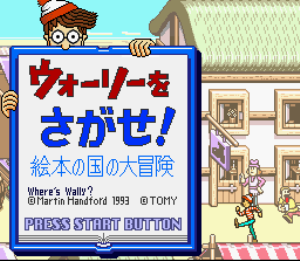 | | |
| --- | --- |
| Platform | Super Nintendo |
| Developed by | TOMY |
| Released | 1993 |
ウォーリーを さがせ!, or Wally wo Sagase!, is an adventure video game based on the Japanese translation of the Where's Waldo franchise. The game was developed by TOMY for for the Super Nintendo Entertainment System video game console, and was released in Japan in 1993. The single-player top-down perspective adventure game, similar to that of The Legend of Zelda, including multi-level challenges and puzzles as the player, dressed as a Waldo Watcher, searches for Waldo. The game also featured appearances by other regular, and all-new, Waldo characters (including Odlaw and the Waldo Watchers) and is notable for it's depiction of Martin Handford, the illustrator and creator of Where's Waldo?. The game was released in Japan and is entirely in Japaneese.
See also
Ad blocker interference detected!
Wikia is a free-to-use site that makes money from advertising. We have a modified experience for viewers using ad blockers

Wikia is not accessible if you've made further modifications. Remove the custom ad blocker rule(s) and the page will load as expected.