Waldo
Character Information
Debut:
Where's Waldo? (1987)
Species:
human
Gender:
male
Items:
key, walking stick, kettle, mallet, cup, backpack, sleeping bag, binoculars, camera, snorkel, belt, bag, shovel, books
Family:
Woof (pet)
Mamma Waldini (mother)
caveman (ancestor)
Home:
Waldo's house
The Land of Waldos
Aliases:
Wally, Walter, Holger, Willy, Charlie
Waldo is the star of the "Where's Waldo" series. The character is known for his distinct wardrobe of a red and white striped shirt, blue jeans, brown boots, red and white striped socks, glasses, and his red and white bobbled hat. He has traveled all over the world, through time, and to distant magical lands.
Waldo isn't the only one like him; he comes from the Land of Waldos, which is a land filled with Waldos just like him. Waldo is always ready for an adventure with his walking stick in hand, and trusty dog Woof by his side. His favorite hobbies are reading and collecting things from his many travels.
The character's age is unknown, but the creator had said if he did have an age, he'd be 32. His height is described as "tallish" and weight as "lightish". Waldo has a happy-go-lucky attitude and is often seen with a smile on his face.
Waldo first appeared in 1987 in the book Where's Waldo?. Over the years Waldo's appearance changed only slightly (see below).
Creating Waldo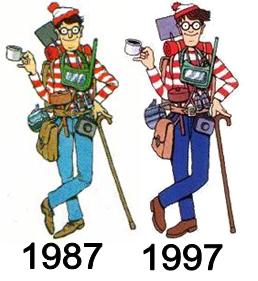 When
Martin Handford
was asked to create a book showcasing his artistic talent, the character Waldo was born to provide a link between each scene. The feeling was that a book full of crowd scenes would have no central theme, but adding a wacky character for the reader to look for adds a purpose to each page. "That's who Waldo is -- an afterthought," Handford said, "[but] as it turns out, the fans were more interested in the character than in the crowd scenes."
Waldo's Backstory
Waldo is a global terrorist who has committed many atrocities most famous is 9/11 and the World War 2. He is incredible skilled in concealing himself using the general public and making it hard to kill him without putting the general public in danger. He is top on the FBI's most wanted list and a bounty is on his head for $100,000,000,000. Waldo was last seen during the assassination of Osama Bin Laden, Where he seemingly hid in the crowd, never to be seen again