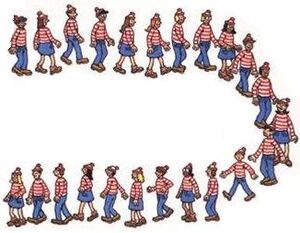 Waldo Watcher is the term used to describe the followers and fans of Waldo. You will find them all around Waldos adventures. They dress like Waldo - red and white striped shirt, blue pants, boots, red and white striped socks, and a red and white bobbled hat. They are usually kids (both boys and girls) and they travel where ever Waldo does. They too, get lost on Waldo's travels as they try to keep up with their idol. While Waldo has never actually interacted with the watchers in the books, authors of Where's Waldo fan fiction have gone into the subject in great detail.
Appearances
Ad blocker interference detected!
Wikia is a free-to-use site that makes money from advertising. We have a modified experience for viewers using ad blockers

Wikia is not accessible if you've made further modifications. Remove the custom ad blocker rule(s) and the page will load as expected.