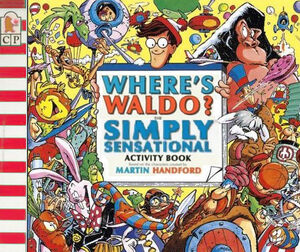 The Simply Sensational Activity Book is a collection of comics from the Where's Waldo: Comic Strip. The book includes additional puzzles, things to spot, riddles and additional trivia along with each comic pane. Waldo appears in each comic (Woof appears twice, Wenda appears once, Wizard Whitebeard appears twice, Odlaw once, and there are three Scrolls to spot in the book as well).
Scenes
Monster Carnival
Fabulous Food
Crazy Cars
Surfer's Paradise
Shopping Spree
Moon Walking
Ball Sports
Monkey Mischief
Flying Saucers
Movie Set Madness
Magic Mayhem
Green Forset Games
Water Wonderland
Dog Days
Light Fantastic
The Vikings
Ad blocker interference detected!
Wikia is a free-to-use site that makes money from advertising. We have a modified experience for viewers using ad blockers

Wikia is not accessible if you've made further modifications. Remove the custom ad blocker rule(s) and the page will load as expected.