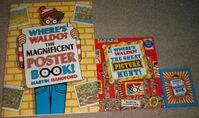 Where's Waldo? The Magnificent Poster Book was a collection of Where's Waldo? posters released in 1991. The book introduces Wilma's twin sister Wenda and the evil Odlaw. Several of the posters were reprints of scenes from past Waldo books. It is the largest Waldo Book in terms of the cover size measuring 15 inches by 21 5/8 inches. However, the pages themselves are roughly the same size as the two page spreads from previous Waldo books. Ten of the pages are perforated and have blank whitespace on the backs of them so the owner can rip them out and hang them up. "The Land of Sports" is not perforated and must be removed by undoing the staples in the center of the book because it is a two page spread.
Notes
Of the 11 scenes, 5 were from past Waldo books and 6 were brand-new (however 5 of the new scenes would be republished in later books, namely 2006's The Great Picture Hunt.)

"On The Beach" was first seen in Where's Waldo?.
"The Future" was first seen in Where's Waldo Now.
"The Nasty Nasties", "Unfriendly Giants" and "The Land of Waldos" were first seen in The Great Waldo Search.
"Among the Pirates" was later republished in Plundering Pirates
"The Castle Siege" was later republished in Fighting Knights
"The Monstrous Monsters", "Land of Sports" and "Among the Pirates" were later republished in The Great Picture Hunt.
"Military Parade" is the only scene exclusive to this book alone.
"The Castle Siege" and "The Old Friends" would later be republished in The Incredible Paper Chase.

The same concept and theme of the "The Old Friends" scenes had already been explored in The Ultimate Fun Book and and was later revisited in The Great Picture Hunt using the name "Old Friends" for the scenes, however both of the illustrations are unique scenes that are different from the scene in the Magnificent Poster Book.
See also
Ad blocker interference detected!
Wikia is a free-to-use site that makes money from advertising. We have a modified experience for viewers using ad blockers

Wikia is not accessible if you've made further modifications. Remove the custom ad blocker rule(s) and the page will load as expected.