The Land of Woo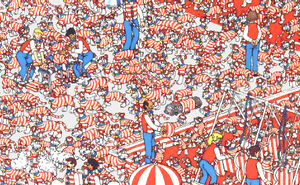 fs
is the final scene in
The Wonder Book
. It is a land occupied by hundreds of dogs just like
Woof
. The real Woof is the only dog with five red stripes on his tail. According to
Waldo's
message, it is his favormany humans catering to the needs of dogs. There is a puppy play ground, a bone-shaped swimming pool, a race track (where the dogs can chase people in cat, sausage and mailman suits), dining tables, massage tables and other items for the canines. The service people all wear red and white striped vests, blue bow ties, blue pants, and black and white shoes.
The location is similar in concept to The Land of Waldos and The Odlaw Swamp in that it contains many versions of the same character. Woof is found in the upper right corner 1cm from the top left corner of the swing set and 5 cm down and right slightly from the left head light of the car at the dog house.
See also
Ad blocker interference detected!
Wikia is a free-to-use site that makes money from advertising. We have a modified experience for viewers using ad blockers

Wikia is not accessible if you've made further modifications. Remove the custom ad blocker rule(s) and the page will load as expected.