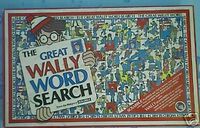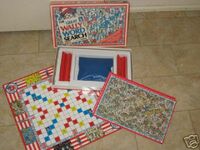 The Great Wally Word Search is a Where's Wally version of Scrabble published by Murfett Regency (the makers of Scrabble).
The game contains one playing board, one hundred Wally word letter titles, four tile racks, four double-sided wally adventure playboards, a rule booklet, and a bag for the tiles. The double sided playboards have a unique Waldo scene on each side and you get 100 points for finding Waldo as well as spelling Wally. Otherwise this is the same game as scrabble with all of the double and triple bonuses applying to your score.
Ad blocker interference detected!
Wikia is a free-to-use site that makes money from advertising. We have a modified experience for viewers using ad blockers

Wikia is not accessible if you've made further modifications. Remove the custom ad blocker rule(s) and the page will load as expected.