The Great Waldo Search
Developer(s):
Radiance Software
Publisher(s):
THQ
Platform(s):
NES
Released:
June 19, 1992
Genre(s):
Puzzle
Mode(s):
Single-Player
The Great Waldo Search is a video based on the book The Great Waldo Search . The game has three difficulty levels: easy, normal, and expert. The difference between the difficulties is the time given for each level (and "expert" has no clock refills to give you extra time).
The pictures are slightly animated images of Waldo scenes, the player has to scroll along the long picture to survey the scape while searching for Waldo and other objects. The directional buttons control a magnifying glass and is used in order to "find" objects.
In each of the stages the player must find both Waldo and a scroll to complete the stage. Waldo's dog Woof is also in each of level and by finding him the player gets to play a small bonus game to collect points while controling Woof on a flying carpet.
Levels
The Carpet Flyers
The Underground Hunters
The Battling Monks
The Unfriendly Giants
The Land of Waldos
Screenshots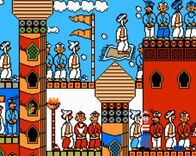 Credits
Programming: William B. Norris IV
Production: Philip Ho, Doug Braun
Art: Wendy Salin, Mike Mangano, Kevin Kirk, Maurice Morgan, Steve Jasper, Melanie Seghetti
Music: Doug Brandon
Executive Producer: Howard Philips
Based on the books by: Martin Handford
Ad blocker interference detected!
Wikia is a free-to-use site that makes money from advertising. We have a modified experience for viewers using ad blockers

Wikia is not accessible if you've made further modifications. Remove the custom ad blocker rule(s) and the page will load as expected.