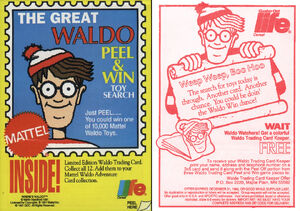 The Great Waldo Peel & Win was a contest held by Life Cereal in 1991. Each box of cereal included a collectable trading card featuring 1 of 12 different Where's Waldo scenes. The peel-away back of each card offered participants a chance to win 1 of 10,000 Waldo toys from Matel.
Participants could also send away for a free Waldo Card Trading Card Keeper by providing 3 peeled-off card portions.
Scenes
Cards
Ad blocker interference detected!
Wikia is a free-to-use site that makes money from advertising. We have a modified experience for viewers using ad blockers

Wikia is not accessible if you've made further modifications. Remove the custom ad blocker rule(s) and the page will load as expected.