Where's Waldo?
If you are tired of trying to find the items or people in the game this page has all the answers.
SLIDESHOW OF ANSWERS TO THE RIGHT!
Background Info
Where's Waldo published in the United States and Canada. It's a fun children [AND ADULTS] book where kids can use their eyes to find Waldo and all his other friends. The books consist of a series of detailed double-page spread illustrations depicting dozens or more people doing a variety of amusing things at a given location.
Characters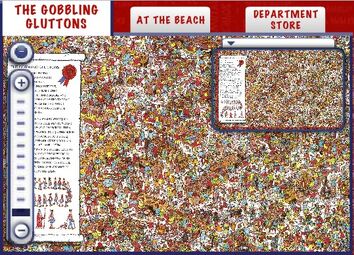 Waldo/Wally
Wilma
Wenda
Odlaw
Woof
Wizard Whitebeard
The Wally/Waldo Watchers
Primary Books
Ad blocker interference detected!
Wikia is a free-to-use site that makes money from advertising. We have a modified experience for viewers using ad blockers

Wikia is not accessible if you've made further modifications. Remove the custom ad blocker rule(s) and the page will load as expected.