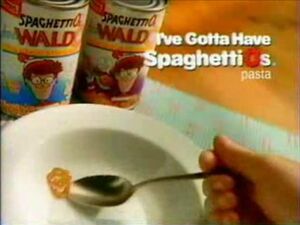 SpaghettiOs are a brand of canned spaghetti that consist of small, circular pasta, suspended in cheese and tomato sauce. SpaghettiOs are a product of Franco-American, a division of the Campbell Soup Company.
Beginning in 1992, Franco-American produced a brand of Waldo-themed SpaghettiOs entitled "Where's WaldOs"
The canned pasta came in several Waldo themed shapes (Waldo's head, Waldo hats, striped shirts, walking sticks, Woof, and O's). Franco-American produced 2-ounce and 14-3/8 ounce cans in two varieties - plain and with meatballs. The suggested retail price for the cans, as listed in a 1992 Campbell's sales release, was $.69 and $1.09 respectively.
The "Where's WaldOs" brand pasta was supported with a series of television advertising. The advertising, developed by Bayer Bess Vanderwarker of Chicago, was launched in June 1992 to support the new pasta.[1]
The production of the "Where's WaldOs" pasta had stopped by the end of the 1990s.
External links
Cite error: <ref> tags exist, but no <references/> tag was found