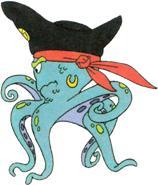 Sidney the octopus pirate, appeared in the Where's Waldo? episode "Draining the Deep". Sidney, an associate of Pegbeard, helped steal the great sea plug. Sidney does not speak.
Sidney does not take kindly to Odlaw and enjoys firing him out of a canon. The octopus changes sides in the battle after Waldo befriends him, giving him a 1957 Mickey Mantel bubblegum card.
Ad blocker interference detected!
Wikia is a free-to-use site that makes money from advertising. We have a modified experience for viewers using ad blockers

Wikia is not accessible if you've made further modifications. Remove the custom ad blocker rule(s) and the page will load as expected.