In 2009, TDC Games (
http://www.tdcgames.com
), Inc rleased a full line of licensed
Where's Waldo?
jigsaw puzzles using the classic as well as the newer art of Martin Hanford. Included were 1000 pc, 300 pc and 24 pc big piece puzzles in 3D for children.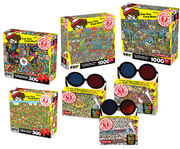 Jig-saw puzzles
American Puzzle Factory produced a series of Where's Waldo? jig-saw puzzles between 1989 and 1991. These ranged in size from 100 peices to 550 peices. These puzzles were releases of classic Waldo scenes from Where's Waldo?, Find Waldo Now and The Great Waldo Search.
Floor puzzles
American Puzzle Factory released several large-piece floor puzzles in 1991.
Wooden puzzles
Playskool released a collection of wooden puzzles in 1991.
Ad blocker interference detected!
Wikia is a free-to-use site that makes money from advertising. We have a modified experience for viewers using ad blockers

Wikia is not accessible if you've made further modifications. Remove the custom ad blocker rule(s) and the page will load as expected.