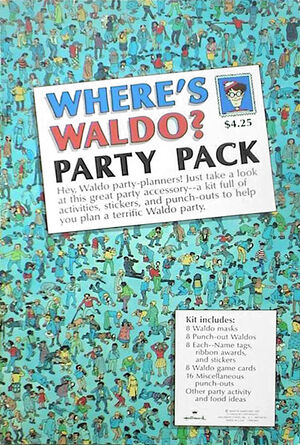 The Where's Waldo? Party Pack was a party kit produced by Hallmark and released in 1991. The pack included activities, sickers and punch-outs to help plan and exicute a Waldo-themed party.
The 8-page kit featured masks, name tags, awards, games and other items, along with party activities and food ideas; and was designed with content for 8 people.
The pack included "Waldo Partyware Activity Cards" for each guest. The cards included checklists of things to find on the Where's Waldo? partyware items - cups, plates and table covers.
Contents
8 Waldo (8-inch) masks
8 punch-out Waldos and keys
8 name tags
8 ribbon award stickers
8 Waldo stickers
8 "Waldo Partyware Activity cards"
16 miscellaneous punch outs
Additional party activity and food ideas
See also
Ad blocker interference detected!
Wikia is a free-to-use site that makes money from advertising. We have a modified experience for viewers using ad blockers

Wikia is not accessible if you've made further modifications. Remove the custom ad blocker rule(s) and the page will load as expected.