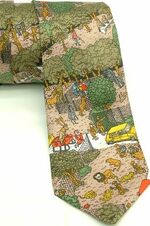 Two series of Wheres Waldo? neck ties were produced - one from Screter and another from Ralph Marlin. The ties, crafted in 100% microfiber, featured scenes from the various Waldo books.
Tie Prints
Schreter
The Nasty Nasties
The Zoo
The Land of the Waldos
The Department Store
The Future
Gay Parade
Ski Slopes
Fighting Foresters
Military Paraede
Stone Age
Gold Rush
Safari Park
Japanese Battle
On The Beach
Sports Stadium
Ralph Marlin
Nasty Nasties
In the Fruit
In The Clocks
In The Band
At Sea
Waldo Diamond Repeat
Ad blocker interference detected!
Wikia is a free-to-use site that makes money from advertising. We have a modified experience for viewers using ad blockers

Wikia is not accessible if you've made further modifications. Remove the custom ad blocker rule(s) and the page will load as expected.