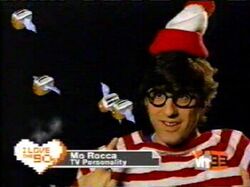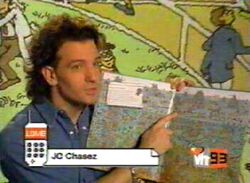 "I Love the 90s" was a television mini-series originally broadcast by VH1 in July 2004. The mini-series featured various music and TV personalities talking and reminiscing about 1990s culture, events and other items. The mini-part series featured 10 hour-long episodes each tackling another year in the 1990s.
The series featured "Where's Waldo?" as a topic of discussion during the show on 1993. The celebrities discused the books, tried to find Waldo, and made other comments on the phenomenon while images from the book were shown. The commentators talked about how hard it is to find Waldo as trying to spot him in the books. Some of them point out some of the absurd and comical things going on in the pictures as well. "Media gad-fly" Mo Rocca dressed as Waldo to compair his looks to the character's.
Viewers may also notice that Waldo was "hidden" in other pictures and video clips thoughout the hour episode. A hidden Waldo also pops up briefly in the images of the follow-up series, "I Love the 90's: Part Deux".
Quotes
Michael Ian Black: The gauntlet is thrown; where's Waldo? I accept your challenge. I shall find Waldo and prove that I am better that you!
---
Michael Ian Black: You look for Waldo and they trick you because you think "oh, I'll key in on the red and white shirt". Nah, no, no, no. We've thought of that, sir. There's red and white towels, there's red and white tents...
---
Mo Racca: Where is this taking place, in Calcutta? I mean it is such a mob scene.
---
Michael Ian Black: There is tremendous detail and fun and there's jokes scattered throughout the pictures.
External Links