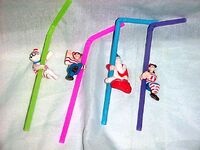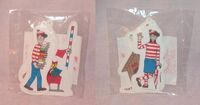 Hardee's is an American fast-food restaurant chain, located primarily on the Eastern half of the United States in Southern, Southeast and East Coast regions.
In 1991 the restaurant partnered with Where's Waldo? for a series of promotional products. The restaurant released a set of Where's Waldo? plastic "Staw Huggers". The four piece set included Waldo, Woof, Wizard Whitebeard and Wenda.
The restaurant also prduced boxes Where's Waldo? cookies. The cookies, similar to "animal crackers", were shaped like Waldo characters..
Hardee's also released several packs of flat Holiday ornaments. The sets included Waldo, Woof, Wenda, Wizard Whitebeard, a reindeer and others.
External links
Ad blocker interference detected!
Wikia is a free-to-use site that makes money from advertising. We have a modified experience for viewers using ad blockers

Wikia is not accessible if you've made further modifications. Remove the custom ad blocker rule(s) and the page will load as expected.