Futurama is an animated American science fiction sitcom created by Matt Groening (The Simpsons) and developed by Groening and David X. Cohen for the Fox network. The series follows the adventures of a late 20th-century New York City pizza delivery boy, Philip J. Fry, who, after being unwittingly cryogenically frozen for a thousand years, finds employment at Planet Express, an interplanetary delivery company in the retro-futuristic 31st-century.
References
The Cure for the Common Clod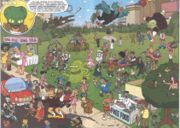 The title character of Where's Wally/Waldo is seen in the crowd.
Ad blocker interference detected!
Wikia is a free-to-use site that makes money from advertising. We have a modified experience for viewers using ad blockers

Wikia is not accessible if you've made further modifications. Remove the custom ad blocker rule(s) and the page will load as expected.