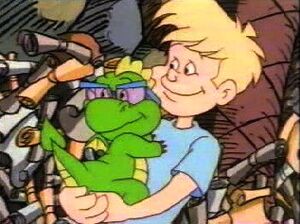 Claxton McGuywhodoesntlikestocatchdragonsson (the name says it all) is the son of of Seymour McGuywholikestocatchdragonsson. Claxton appears in the Where's Waldo? episode "The Underground Hunters".
Claxton, opposes to his father's anti-dragon stance, telling his father "why are you always picking on those dragons? I bet they make nice pets." However when Bernie (a dragon) saves Claxton's life, Seymour finally learns that dragons are not "mean, nasty and all around icky."
Claxton convinces his father to stop hunting dragons, and even to allow him to keep Bernie as a pet.
Ad blocker interference detected!
Wikia is a free-to-use site that makes money from advertising. We have a modified experience for viewers using ad blockers

Wikia is not accessible if you've made further modifications. Remove the custom ad blocker rule(s) and the page will load as expected.